Destination: AMERICA'S BEST BEACHES


Beach bliss


Anuual top 10 list praises North Carolina, New York, Florida and Hawaii


By Kate Pocock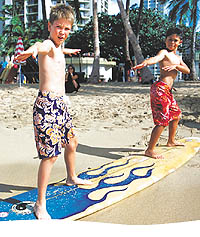 Oahu is still surf central and family lessons are available in several locations. (Oahu Visitors Bureau)
Face it. Winter's coming.
For solace, we need to call on Dr. Beach -- aka Dr. Stephen Leatherman -- the Floridian University professor who offers a possible annual cure with his Top 10 list of America's Best Beaches.
Leatherman's latest venture offers even more choice -- an annual list of certified Healthy Beaches based on 35 environmental criteria. Again, Florida and Hawaii top his 40 winning stretches of sand.
But there are other warm shores waiting for buckets, shovels and kids. For families still longing for summer, here are a few suggestions from me, Professor Beach and my own little Beachers:
FOR SOFT, SWEET SAND: The Cayman Islands
This island trio is known as a world diving hot spot. But there's spectacular sand and surf for youngsters, too. If you picture your kids playing on one of the most beautiful beaches in the Caribbean (Seven Mile Beach), swimming in shallow, clear turquoise waters, then Grand Cayman is ideal.
Just yards offshore, we were snorkelling through so many colourful sea creatures, we bought a book to identify them. For laid-back Caribbean atmosphere, take kids by ferry to Rum Point where hammocks, rope swings and picnic tables await.
Cayman Brac has now joined the beach action with Family Week (July 11-18, 2004). "No Shoes Allowed" beach cookouts, stargazing and parent-child snorkelling trips take advantage of this often unexplored natural environment. For information on family accommodation for all three islands, call Cayman Islands Tourism at 1-800-263-5805 or visit www.caymanislands.ky/canada .
FOR SURFING: Honolulu and Maui, Hawaii
Yes, in Honolulu on the island of Oahu, you'll encounter Hawaiian shirts and flowered surf pants, re-runs of Hawaii Five-0 on TV every day, and surfers waiting for the perfect wave on Waikiki Beach. Families (age 4 and up) can take lessons with Hans Hedemann Surf School (808-924-7778) in several locations or with Hawaiian Fire Fighters (age 6 and up) on a safe, sandy beach on the west side of the island (808-384-8855). For info, visit www.visit-oahu.com .
Alternatively, fly to Maui, the island known for its windsurfing and kitesurfing fanatics. Maui's beaches have topped the Top 10 lists for years. This year's absolute winner from Dr. Beach was Kaanapali Beach near Lahaina, For surfing, try Action Sports Maui at Wailuku (808-871-5857). For just plain sand castles and gentle surf, try Kapalua Beach. For Aston condo properties offering family rooms for under $100 US, contact the Hawaiian Visitors and Convention Bureau 1-800-525-MAUI or visit www.visitmaui.com .
FOR THE PHYSICALLY CHALLENGED: Luquillo Beach, Puerto Rico
Not far from the interesting colonial capital of San Juan is Luquillo Beach, a mile of golden sand shaded by coconut palms. As the island's most famous public beach, it's outfitted with lockers, showers, refreshment stands, picnic tables -- and special "Sea Without Barriers" facilities for wheelchair users and special needs children. Trained staff are there to help. For info, contact the Puerto Rico Tourism Company 1-800-667-0394 or www.gotopuertorico.com . For a list of hotels offering a fourth night free, visit www.puertoricoisfun.com .
FOR BOARDWALK ACTION: Santa Cruz Beach Boardwalk near Monterey, Calif.
We discovered this west coast version of Coney Island almost by accident. Attached to the bustling beach scene was an old-fashioned boardwalk with time-honoured amusements such as the clickety-clack Giant Dipper, the oldest roller coaster in the American West, an expansive saltwater taffy shop run by three generations of the Marini family and a 70-horse carousel which was hand-carved by a Danish craftsman almost a century ago. Our kids had a blast.
New this year are the Fire Ball and the Cliff Hanger, where riders seemingly soar over the Pacific for ocean views (minimum height 48 inches). The boardwalk is open on weekends year-round but starts up full tilt in February when families start flocking to this mile-long stretch of sand. Exhausted from excitement, kids can chill for a while on the wide sandy beach. For information, call 831-426-7433 or visit www.beachboardwalk.com .